Some workplaces, such as mining, construction, and healthcare, can be contaminated with a range of airborne substances. Respiratory protection is paramount to protect against occupational exposure which can cause serious respiratory illness.
Powered Air Purifying Respirators (PAPRs) are indispensable in these industries, acting to protect the worker welfare as they complete their daily work tasks under these conditions.
What Are PAPRs?
PAPRs are a type of respirator that protects the user from hazardous airborne particulates, gases/vapours, and other contaminants. They work by utilising a battery-powered fan to push air through an air-purifying filter, thereby supplying clean air to the breathing zone for the user. A PAPR usually consists of a battery-powered unit, a filter, and a headpiece. PAPRs are used in combination with other hazard control measures.
Although there may be a higher initial investment for a powered APR, there are a few key benefits of PAPRs:
Greater assigned protection factor than other non-powered respirators
Low breathing resistance provides comfort throughout the day
Reusable and low maintenance
Highly versatile across different industries
It's important to note, the performance of PAPRs depends on the correct selection, fit, and situation of use. All manufacturer specifications should be adhered to in order to meet the stated performance requirements.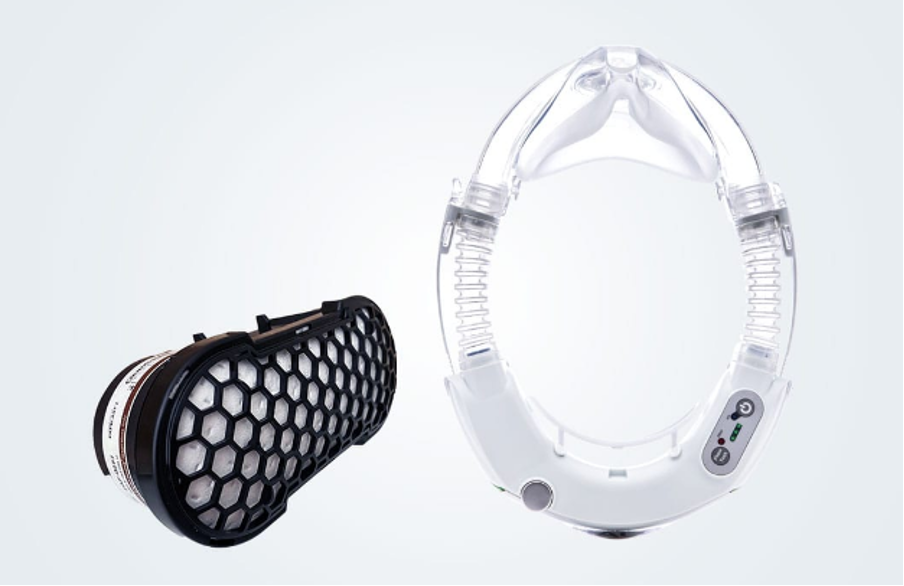 Photo credit: CleanSpace
Smart Technology
When picking a powered air purifying respirator, consider the benefits of CleanSpace Respirators:
CleanSpace Power Units
The power unit delivers up to 220L/min air flow
Provides clean air for up to eight hours to last for a full shift
User can quieten the motor when performing medical tests, such as using a stethoscope
Positive pressure unit, meaning contaminated air is unable to infiltrate the system and impact the user
CleanSpace Masks
The mask is made of soft medical grade silicone (latex-free), providing a comfortable moulded seal
Masks are transparent for clear voice transmission and ease of communication
Half- and full-face mask options are available
CleanSpace Design
Lightweight with no cables, hoses, or belt-mounted battery
Durable enough for industry, yet ergonomic for the healthcare setting
Compatible with Personal Protective Equipment (PPE) and other wearable equipment (such as welding shields)
CleanSpace Filters
Ambient air passes through air-purifying filter to provide fresh clean air to the user
Variety of highly efficient filter options available
CleanSpace Applications
CleanSpace respirators have been deployed across a wide range of industries, from healthcare to construction. CleanSpace respirators include:
CleanSpace2: Designed for workers in general industrial environments
CleanSpace ULTRA: Designed for workers in environments requiring face/eye protection and water tolerance (IP Rated 66)
CleanSpace EX: Designed for workers in potentially explosive environments
CleanSpace HALO: Designed for healthcare and frontline workers in clinical settings
Picking A Respirator
Picking a respirator is no longer confined to hot, stuffy, disposable mark or heavyweight PAPR systems that are cumbersome, expensive, and difficult to use. CleanSpace offers leading edge technology with the best respirators on the market for comfort and performance.
Want superior respiratory protection on the job?contact trusted experts to get help with picking the right PAPR.